On June 15, 2017, Attorney Michael Jon Shalbrack received the Seely P. Forbes Memorial Award, one of the Winnebago County Bar Association's highest honors. This award recognizes an individual for their extensive community service and strong moral character.
Mike had no idea that he was even a nominee for the prestigious Award. He said, "I have been watching people I have respected for a long time receive the Award, and to be included in their company was an honor." Two of Mike's former partners, Norm Lindstedt and Richard Gaines, had been so honored with the award in the past. It was particularly special that the Honorable Eugene Doherty, the incoming President of the local Bar Association, presented Mike with the Award, as Judge Doherty practiced law at HolmstromKennedyPC before being appointed as a Circuit Court Judge in the 17th Judicial Circuit.
Mike got involved in the community early in his career. He found strong mentors, including the firm's namesake, John Holmstrom, Jr. John advised Mike to go out and find a nonprofit that he was passionate about and to "give it your best for as long as you can." Mike did just that and found Big Brothers / Big Sisters (BBBS). He served on the Board of BBBS for almost 6 years, serving as Secretary and finally as President, and was heavily involved in its fundraising efforts. Mike is the first to roll up his sleeves and dive into the behind the scenes, unglamorous work. Mike helped plan and facilitate events such as a Hole-in-One contest (on the Rock River) during the local On the Waterfront Festival, Bowl For Kids' Sake, and the Great Rock River Duck Race. He reflected on these events and said, "People still talk about the Duck Race. We dumped about 10,000 rubber ducks into the Rock River from a crane high above, and whosever duck crossed the finish line first won a new car. I had to get in the river chest high sometimes to fish out and corral stray rubber ducks. It was fun." He also said, "Bowl for Kids' Sake was so much fun because the Bar Association got involved and there were friendly competitions between local firms and solo practitioners to raise money for BBBS. A travelling trophy went back and forth between firms (as well as good natured trash talking) and this really bolstered camaraderie within the legal community." After leaving the Board, Mike also assisted BBBS during its merger with the local YMCA.
Throughout the course of his career, Mike has also been very involved in the approximately 600-member Bar Association. He is set to assume the role of President next year and currently serves as the First Vice President. Additionally, he has regularly presented at CLE seminars for local Bar Association members, as well as for nonprofits and charities, and has represented numerous nonprofits, both pro bono and as hired counsel.
When I asked him why he loves to volunteer, he stated, "I get more out of it than I put in. I enjoy helping people. It can be a lot of work, but there is a huge reward. People in Rockford donate time and resources generously and that is the best thing about this town." Mike intends to continue his involvement with the Bar Association and is presently tackling a new passion – post high school scholarships. He has been working to set up a scholarship fund for his high school in the hopes of benefitting kids through trade school, junior college and/or 4-year college programs. Mike has previously been an advisor to the local Northern Illinois Community Foundation which handles other college scholarship programs.
Helping kids is a focus for Mike. He told me a particularly poignant story about two young men that he met through another Board on which he served. These young men were both youth offenders trying to make better lives for themselves and their families. Mike bonded with these young men. He showed them compassion, recognizing both their triumphs and hardships. He worked with them, mentored them, and ended up serving as a reference for them, assisting them with employment opportunities. Mike has an ability to "be an ear and help find a solution." He did this for these two young men, and he does this for many at our firm and throughout our community.
Our firm is so pleased Mike received this honor, as it is well-deserved. Mike has been practicing law at HolmstromKennedyPC for over 30 years. In addition to being known as a trusted lawyer, Mike is also known for being one of the kindest people you will ever meet. Congratulations, Mike! You make us proud!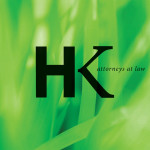 For more than a century, HolmstromKennedyPC has provided a full range of legal services throughout Northern Illinois. We deliver solution-oriented legal services to our local, national and multi-national clients in the communication, technology, commercial, financial, estate planning and health care industries.